Inductive Microsensors
Nanostructures is a close-packed beam of electrically conductive nanowires from a number of metals, semimetals, semiconductors in individual glass insulation each, the beam is covered with a common glass sheath. They can contain hundreds of thousands and millions of separate insulated nanowires with core diameters from 50 to 200 nm with a total diameter of 20-200 μm. The length of the obtained NSCC is up to 20-30 cm.
On their basis, it is possible to manufacture microthermocouples and point-based microculerators, which can be used in medicine and biology to diagnose and treat various diseases associated with blood vessels and vascular ducts of other organs.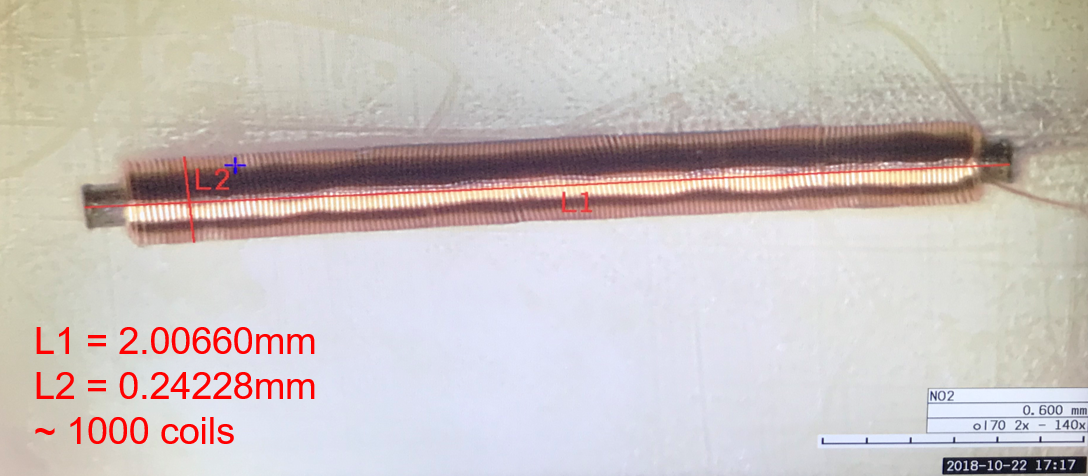 Sensors and micro coils
Designed for use in medicine (cardio-navigation catheters), as well as for microcoolers used in electronic circuits for miniature thermal generators or thermal radiation sensors.
There is equipment and technology for manufacturing micro-coils, sensors, as well as individual assembly units and the experience of winding on cores from different types of materials.
We carry out work on the requirements of the customer.
Technological possibilities:

The minimum wire diameter is 10 μm
The number of layers is more than 10.
The number of turns from 100 to 2000.
TOTAL LENGTH
MANUFACTURED
WIRES
DIAMETER
OF MICROWIRES
LESS THAN 1 MIC